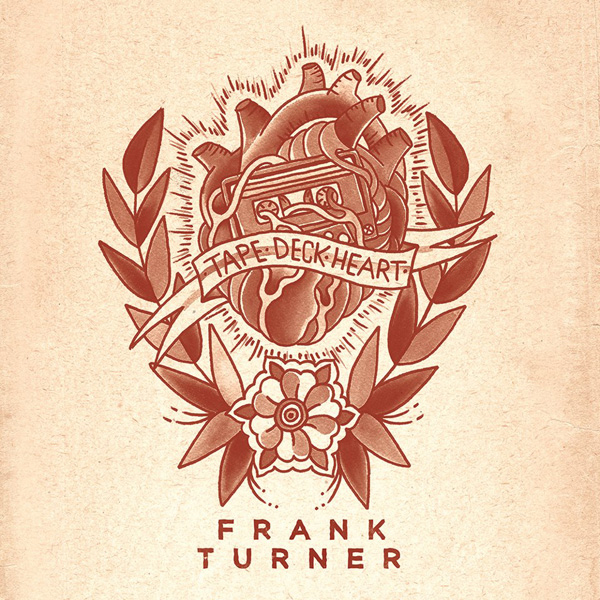 It seems like such a long time ago now, but I ended 2012 with a Frank Turner gig in Bath, where I first heard some of the fantastic songs from this album, and danced around to 'four simple words.'. I love every single thing about this album, even the artwork. I admire Frank for keeping his strong opinions and political views, even though he's somewhat become more popular and has hit the charts a few times. I cannot explain how excited I am to see him in February. My favourite songs from this album are pretty hard to pick, but I'd probably have to pick 'The way i tend to be', 'Four simple words' and 'Losing days' which I hope to learn when i get my mandolin :D
Tom Odell has been one of my favorite musical discoveries of 2013. I fell in love with the piano in 'Another love' and pretty much in all of his songs when I listened to the album. He's so emotive and his voice is so great for that. My favorite songs are 'Another love', even though it's been overplayed to the max, 'Grow old with me' and 'Hold me'
I went through a phase recently where I stopped listening to this album, because I had listened to it so much in the summer. But for me this album brings back really nice memories of meeting Josh and just lying in bed with him during the summer listening to this album. You may or may not know that I have a crazy love for harmonies in songs, and like to try and sing along, so this album really does it for me haha. My favorite songs are 'Big parade', 'Flapper girl' and 'Flowers in your hair'. It's nice because each song has a different little memory :)
As soon as I bought this album/EP i listened to it over and over and harmonized along with it in my bedroom (i have no shame). Hudson Taylor need so much more recognition for what they do, and I hope they have the same success that Gabrielle Aplin has got. If you don't know, Alfie from this band is Gabrielle Aplin's boyfriend. I first saw Hudson taylor when they were supporting Gabrielle Aplin, I had been a fan of theirs for a while so was pretty chuffed when I found out I was getting 2 of my favorite artists for the price of one. 'Care' is such an amazing song from this album, and strangely reminds me of 'Words' by Boyzone. It took me so long to realize what song it reminded me of! I genuinely have a lot of love for this song. A bit too much.
I must say, I still haven't listened to every single song off this album, but i am putting this here merely for my love of 'A love like this.' I actually discovered the song because I saw Orla Gartland do an AMAZING cover on Youtube in a church, so i listened to the original. I must say, i do prefer Orla Gartland's crazy mandolin skills, but this is such a good song with a lovely rhythm and I can't wait to learn to play it.
Its taken a while for this album to grow on me, as initially I was a little disappointed with it. It does deserve a place on my list though. The only reason I was disappointed was because there were so many lovely songs on the EPs i have, and only two songs were put on the album. However, it has grown on me a lot over the past year, and I listen to it lots and lots. One thing that is really great is the fact that she now has a band and orchestra, it makes such a difference to the song 'Panic cord' that i prefer it to the one on the EP. It's so lovely to see Gabrielle Aplin finally getting her recognition too. HER PET FERRET, FERRIS IS ALSO SO ADORABLE. Big shout out to ferris.
I saw Biffy Clyro for the very first time in March, and I was so happy as they'd been on my list of people to see for so long. This album is great, and i am now starting to prefer different songs from it. 'Victory over the sun' has slowly become one of my favorites, along with 'Stingin' belle'. They were amazing live, and it was great to get so close (5 meters!!!) to the beautiful Simon Neil as they played one of my favorite songs 'Machines'.
Definitely one of my overplayed albums. Especially over this past month of two, to get me through my uni projects. I mainly blame Emily for making me want to listen to them all the time. I think I first came across Bastille when he was solo and did a cover of Fleetwood Mac's 'Dreams' with Gabrielle Aplin, which was reaaaaaallly amazing. I remember I got their EP free, so had a few songs from this album which I really liked, like the City high cover. Pompeii is still my favorite song off this album, and once again Orla Gartland does an amazing cover of it.

2013 has been an amazing year for music i like, it would have topped it off if Mumford & Sons had a new album out this year, I was very sad to hear of their hiatus. Sorry if this is a bit of a shit post, i just wanted to do something like this as there have been so many good albums.
Thanks for reading & Merry Christmas (just in case i don't post before then)